The Worthington Inn was very excited to name longtime Worthington Inn culinary team member, Mike Waters, as our new Executive Chef in October 2015. While all of us at The Inn are quite familiar with Chef Mike, we realize you may not be as well acquainted and wanted to take a moment and introduce you to the man behind the menu…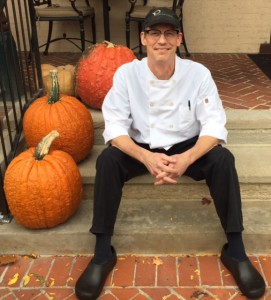 Executive Chef Mike Waters graduated from Columbus State Culinary School in 1992, during which time he apprenticed under well-known Columbus chef, Charles Langstaff. Developing a close relationship with his mentor, Waters served as Executive Chef at Dock Street Food & Drink, Hoster Brewing Company and then The Flat Iron before choosing to take some time away from the kitchen to raise his five children. Chef Waters returned to the culinary world with a brief tenure at the Bexley Monk before moving to The Worthington Inn in 2009 where this rising star was named the Executive Chef in 2015.
Chef Waters describes his culinary style as world cuisine with an emphasis on local and seasonal ingredients. While seemingly contradictory, he enjoys working with various recipes, techniques and ingredients from all over the world and finding a way to incorporate local and seasonal aspects to create a cuisine unique to the Columbus dining scene.
What is your favorite aspect of being Executive Chef at The Worthington Inn?
Chef Mike (CM): As cliché as it sounds, I love working with the local farmers and purveyors. Learning about them and their business inspires me how to best use and showcase the ingredients they provide.
When you aren't cooking at The Worthington Inn, what are you cooking for your family?
CM: Since I cook mostly fine dining style during the day, I like to stick to comfort foods with my family like chicken, dumplings, and meatloaf. My family's favorite is my smoked BBQ ribs that I smoke in our own smoker in the backyard.
If you weren't a chef, what would you be?
CM: I would be an engineer. I started engineering school before deciding to change to culinary school. Cooking is essentially science and I've often used my engineering training in the kitchen to understand things like heat flow. Plus, it means I know how to fix the ice cream maker when its broken!