Fourth of July has passed and the Dog Days of Summer will soon be upon us-its time for our Late Summer menu! We caught up with Chef Mike to talk about his favorite additions to this very-seasonal menu, composed with an al-fresco table on our patio in mind!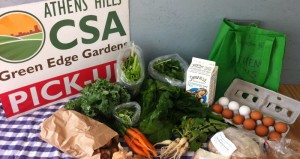 The Panzanella Salad is full of the summer's bounty featuring fresh red tomatoes, cucumbers, sweet peppers, Ohio heirloom tomatoes and local greens with locally-harvested produce from Green Edge Gardens, Cottage Garden Farms, and Yoder's Family Farms.
Green Edge Gardens produce, as featured in their CSA.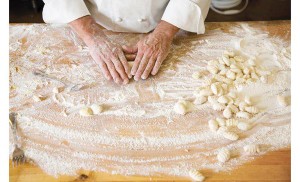 Our hand-rolled Housemade Gnocchi gets a summery make-over and features fresh Ohio sweet corn and roasted chicken from Covey Rise farms. Similarly, the house Ravioli swaps out lobster for fresh lump Maryland Crab and a fire-roasted tomato sauce for the remainder of the summer. As always, our pasta is rolled, cut, or pulled in-house by Terry. While a pro at producing pillowy gnocchi, Terry is also well-versed in philosophy and poetry and a pasta-making session with him could also result in a deep discussion about the newest Film Noir on Netflix.
Terry hand-rolling gnocchi in our kitchens. (Photo courtesy of Columbus Crave, Fall 2015) 
Blackened Sea Scallops headline as newcomers to the Summer menu. Always a dining room favorite, the fresh scallops are served atop a salad of pea shoots, sunflower sprouts, local radishes topped with shoestring potatoes and tossed in a cilantro-lime vinaigrette.
Finish off the evening with a S'mores Crème Brulee, a fine dining perspective on the popular campfire treat featuring chocolate crème brulee with housemade graham cracker and housemade marshmallow.
Not to worry, your steadfast favorites like the incomparable Beef Worthington and crispy tempura Calamari still remain on the menu, while early summer favorites like the Garden Gazpacho will also still be available. The full menu will be available for viewing on July 19.
The Late Summer Menu premieres next Wednesday, July 19. The kitchens at The Worthington Inn will shut down from 2pm-5pm as the kitchen and staff re-orients themselves with the new Late Summer menu. Call 614.885.2600 or visit OpenTable (link here) to make your reservations!
The Worthington Inn is open 7 days a week for lunch, dinner and brunch on Saturdays and Sundays. The Worthington Inn has also has five private dining rooms for groups of 10-100 diners for wedding receptions, rehearsal dinners, bridal and baby showers, corporate events, memorial gatherings and more. Visit our Wedding and Private Events Page or contact our sales office at 614.885.2600 x 214 for more information about our private dining.