Inn photos throughout the years
Experience the Tradition. Experience the Excellence. Experience the Worthington Inn.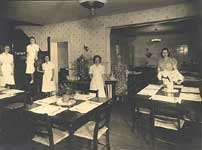 In 1816, a gentleman from Connecticut named Rensselear W. Cowles came to Worthington, Ohio to seek his fortune. In 1831, Mr. Cowles constructed the oldest portion of the Inn as a private residence for himself and his wife. The land and building that he purchased for $250.00 is what has become The Worthington Inn. Mr. Cowles' life in central Ohio's first city was one of civil service and prosperity. As a resident of Worthington, he served as County Commissioner, Justice of the Peace and Postmaster, while also profiting as a merchant.
After Mr. Cowles' death in 1842, Theodore Fuller purchased the Cowles' property and promptly enlarged the building. Mr. Fuller sold the business to William Bishop in 1852 for $5,000.00 changing the property from a private residence to a traveler's inn (called the Bishop House) on one of Columbus' most traveled thoroughfares (now know as Route 161 – Dublin-Granville Road). At the time of Mr. Bishop's proprietorship, a typical meal at the Inn cost only a dime and an overnight's stay cost only 25 cents!
In 1868, the Lewis family purchased the property and continued to operate it as the Union Hotel until 1889. At that time, the Inn was sold again, this time to Mr. George Van Loon, who renamed our beloved enclave the Central House. When a fire damaged the roof and second floor of the original two-story structure in 1901, George's son, Nicholas Van Loon, decided to add a large third floor ballroom under a new mansard roof. This addition created the characteristic Victorian facade that you see today.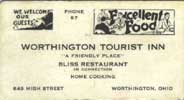 Years after Mr. Van Loon's passing, the current owners purchased the building and began the task of restoring the Inn to its former Victorian glory. The new owners insisted that the Inn would honor the traditions of its past and offer the highest-quality food and service in central Ohio. Over the past 30 years, we have worked hard to maintain those traditions – our chefs bake our bread daily, churn our own ice cream & sorbets and make our pickles, sauces, soups and desserts in-house. We source the finest ingredients to create our seasonal menus and we believe strongly in supporting local and sustainable farming techniques.
The Worthington Inn is open seven days a week, offering lunch, dinner and a weekend brunch featuring a 15-topping local Bloody Mary bar. We also offer five private dining rooms, including a majestic grand ballroom, for private events from 10 to 100 guests.
*Photo credits to "Worthington Historical Society".
The Worthington Inn Culinary Team
The Worthington Inn culinary team of Executive Chef, Mike Waters, and Banquet Chef, Cece "Mama" Fehlhaber, have 20 years of experience in The Worthington Inn kitchen.  These two chefs share a passion for creating fresh, seasonal cuisine made with high-quality, sustainable and local ingredients.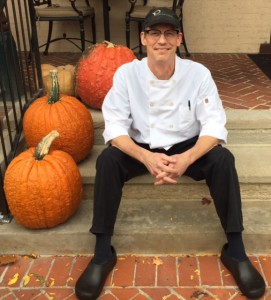 Executive Chef Mike Waters graduated from Columbus State Culinary School in 1992, during which time he apprenticed under well-known Columbus chef, Charles Langstaff. Developing a close relationship with his mentor, Waters served as Executive Chef at Dock Street Food & Drink, Hoster Brewing Company and then The Flat Iron before choosing to take some time away from the kitchen to raise his five children. Chef Waters returned to the culinary world with a brief tenure at the Bexley Monk before moving to The Worthington Inn in 2009 where this rising star was named the Executive Chef in 2015.
Chef Waters describes his culinary style as world cuisine with an emphasis on local and seasonal ingredients. While seemingly contradictory, he enjoys working with various recipes, techniques and ingredients from all over the world and finding a way to incorporate local and seasonal aspects to create a cuisine unique to the Columbus dining scene.
Banquet Chef Cece "Mama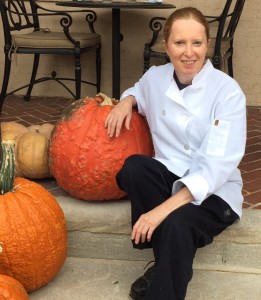 " Fehlhaber didn't originally pursue the culinary arts, but growing up as the oldest of four children in a single-parent home, she quickly learned the skill. While working as a seamstress at age 17 in the hotel linen room, her talents were noted by the restaurant's chef who asked her to work with him in his kitchen. Chef Cece spent the next 12 years at One Nation in the Nationwide Building under Executive Chef and mentor, Don Hauck. She followed Hauck to his next venture, Out On Main, before moving to The Worthington Inn as Banquet Chef in 2002.
When not preparing carefully-crafted and well-executed meals for our private events of 10 to 100, "Mama", as Chef Cece is lovingly called by The Worthington Inn staff, likes to spend time with her three children and two cats, Baby and Fat Boy.